Update includes:
🌊New Water System
⛴️Tugboats
🤿Abyss Item Store DLC Pack
🧚‍♀️Ferry Terminal
⬛Shader Improvements
🛠️Various Fixes & More!
Full video showing all the changes incoming by 'SHAD0WFRAX' - We hugely recommend you watch and subscribe to them for all the Rust update news
How to update your server
Log into the control panel

Navigate to your Rust server
On the left hand side click 'Steam Update'
Optional: We recommend using a fresh map for this
Restart the server
Important Release notes that we've spotted
🌊New Water System

The graphics of water have had a major overhaul, it looks much better and has greater looking animations. Reflections are now working better too!
⛴️Tugboats
The floating base!
You can't build a mega super base on this but you can place a few doors in the doorways (3 total) and you can place locks and other deployables on the floors. So consider this your second base that can move - perhaps a raiding base for raiding those bases on the coast?
You can place benches, boxes, small furances, bags and beds.
Currently you can not purchase the tugboat (subject to change) but you can find them at Harbors. They currently run from low grade fuel.
The tugboat also comes with sonar allowing you to keep track of all nearby subs.
This might also be related to the nexus (server to server transfer) functionality coming in the future - see 'nexcom' on the dash UI
🤿Abyss Item Store DLC Pack
Diver Suit - a skin for the Hazmat suit. Currently it doesn't offer any benefit to actually swimming underwater but a cool skin nevertheless.

Diver Torch - a skin is also coming to the Torch! This skin does come with some benefits, that it actually continues to work underwater.

Diver Assault Rifle - a skin is coming to the AK. It looks pretty cool

Diver Hatchet - No additional features except for it drips water and is covered in some barnacles!

Diver Pickaxe - Similar to the Hatchet, has no extra features but looks cool

🧚‍♀️Ferry Terminal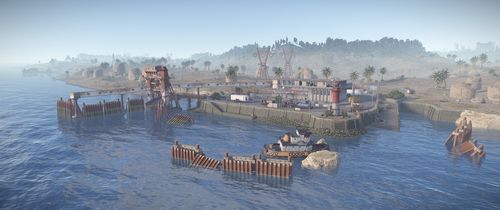 A new monument to add to the list of places you can explore and fight over, the Ferry Terminal. Potentially the future hub of server to server transfers. You will only see one of these per map, but it will be accessible by road or the underground tunnels.
The monument also comes with a functional car lift, allowing you to take cars to other servers?
Currently there is some loot, a couple wooden crates and one military crate and likely some NPCS will be added.
🛠️Various Fixes & More!
Shader Improvements
Combat knife can now untie underwater crates
Better optimization on networked bases
Fixed conveyor screen not showing item transfers
Rust Nexus System - Rumours
The Nexus System that is an upcoming addition to the game may well be tied into the Ferry Terminal monument as ferries could travel between servers, allowing your community to transfer over to your second server where the wipe has just happened allowing for some large battles as players rush to transfer their gear over.
This has caused a little bit of a heated debate, the fear being that this could cause large PVP groups to dominate even harder on wipes.
Order your Rust server now here: https://low.ms/game-servers/rust-server-hosting